HEAT PUMPS
---
We specialise in the installation and repair of ALL hot water systems.
Heat pump water heaters use electricity to move heat from one place to another instead of generating heat directly. Therefore, they can be two to three times more energy efficient than conventional electric resistance water heaters. To move the heat, heat pumps work like a refrigerator in reverse.
While a refrigerator pulls heat from inside a box and dumps it into the surrounding room, a stand-alone air-source heat pump water heater pulls heat from the surrounding air and dumps it — at a higher temperature — into a tank to heat water. You can purchase a stand-alone heat pump water heating system as an integrated unit with a built-in water storage tank and back-up resistance heating elements. You can also retrofit a heat pump to work with an existing conventional storage water heater.
Heat pump water heaters require installation in locations that remain in the 40º–90ºF (4.4º–32.2ºC) range year-round and provide at least 1,000 cubic feet (28.3 cubic meters) of air space around the water heater. Cool exhaust air can be exhausted to the room or outdoors. Install them in a space with excess heat, such as a furnace room. Heat pump water heaters will not operate efficiently in a cold space. They tend to cool the spaces they are in. You can also install an air-source heat pump system that combines heating, cooling, and water heating. These combination systems pull their heat indoors from the outdoor air in the winter and from the indoor air in the summer. Because they remove heat from the air, any type of air-source heat pump system works more efficiently in a warm climate.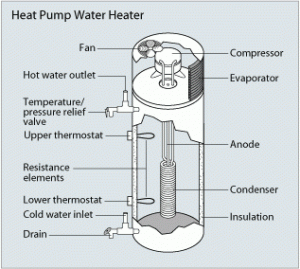 CONTACT US
---
Got a question or would like a quote? Feel free to call us on 0432 611 198 or fill out the contact form below and we'll get back to you as soon as possible. 
COUNTRYWIDE PLUMBING & GAS FITTING
Established in 2002, Countrywide Plumbing & Gas Fitting is a proud family owned business which has been providing Plumbing & Gas Fitting Solutions of over 16 years.
Member of the Master Plumber Association Queensland
Member of the Queensland Building and Construction Commission
QBCC1184779